Mahi Tahi is Scouts Aotearoa's online tool to support members' Scouting journey. It connects Kirikririroa and St. Peter's Scout Group members with their Scout Group and Scouts Aotearoa Waikao Zone and helps track personal progression through the Scouts Aotearoa Youth Programme.
With Mahi Tahi, you can:
Connect and chat with fellow Keas, Cubs, Scouts, Venturers and Kaiarahi.
Share photos.
Access resources and activities to help you on your Scouting journey.
Record your Scouting adventures.
In time, you will be able to do even more with Mahi Tahi, as Scouts Aotearoa continues to add functions. The version of Mahi Tahi you see today is a minimum viable product and includes the things Scouts Aotearoa thought would be most useful to help support your Scouting during the COVID-19 pandemic. Things will continue to be updated with exciting new content!
To help you uncover the different things you can do with Mahi Tahi, Scouts Aotearoa created a short video for you.
This video will walk you through all the different parts of Mahi Tahi, and how to use them.
We recommend taking a look at it before you log on for the first time.
What does Mahi Tahi mean?
Mahi Tahi is Te Reo Māori, and can be used as either a noun or a verb. Mahi Tahi means "to work together, collaborate, cooperate." We arrived at this term after working with our Te Reo Māori Translator.
Is it a safe online space?
Of course! Mahi Tahi was built to ensure that one on one conversations cannot be had, there are thorough content filters in place and flagging abilities for anything that anyone thinks is inappropriate. Only police checked Kaiārahi  have access and there is no way for anyone else to create a log in.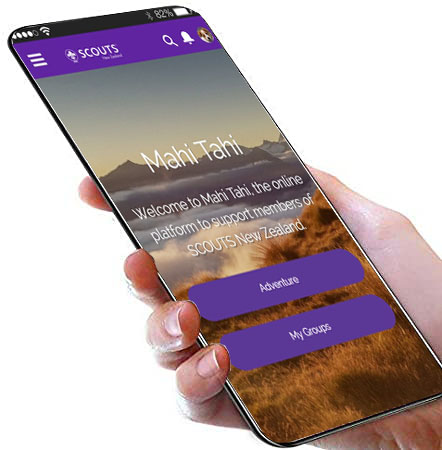 Will parents and whnaua have access?
At this point in time, only youth members and Kaiārahi have logins. However, for our younger members, their parents/caregivers are likely to sign on with their young person to assist them. For our older members, it is up to each household to decide how they wish to handle this. It may be that your household rules are that all usernames and passwords are shared so that they can be logged into if and when required or it may be that you just ask/are asked to see the content every now and again.
Do we still use Online Scout Manager (OSM)?
No. Mahi Tahi has replaced OSM.
What do I do if I am seeing the wrong section e.g Keas instead of Cubs?
The information in Mahi Tahi was imported from OSM. If you are in the wrong section please let your Kaiārahi  know so that they can get it sorted.